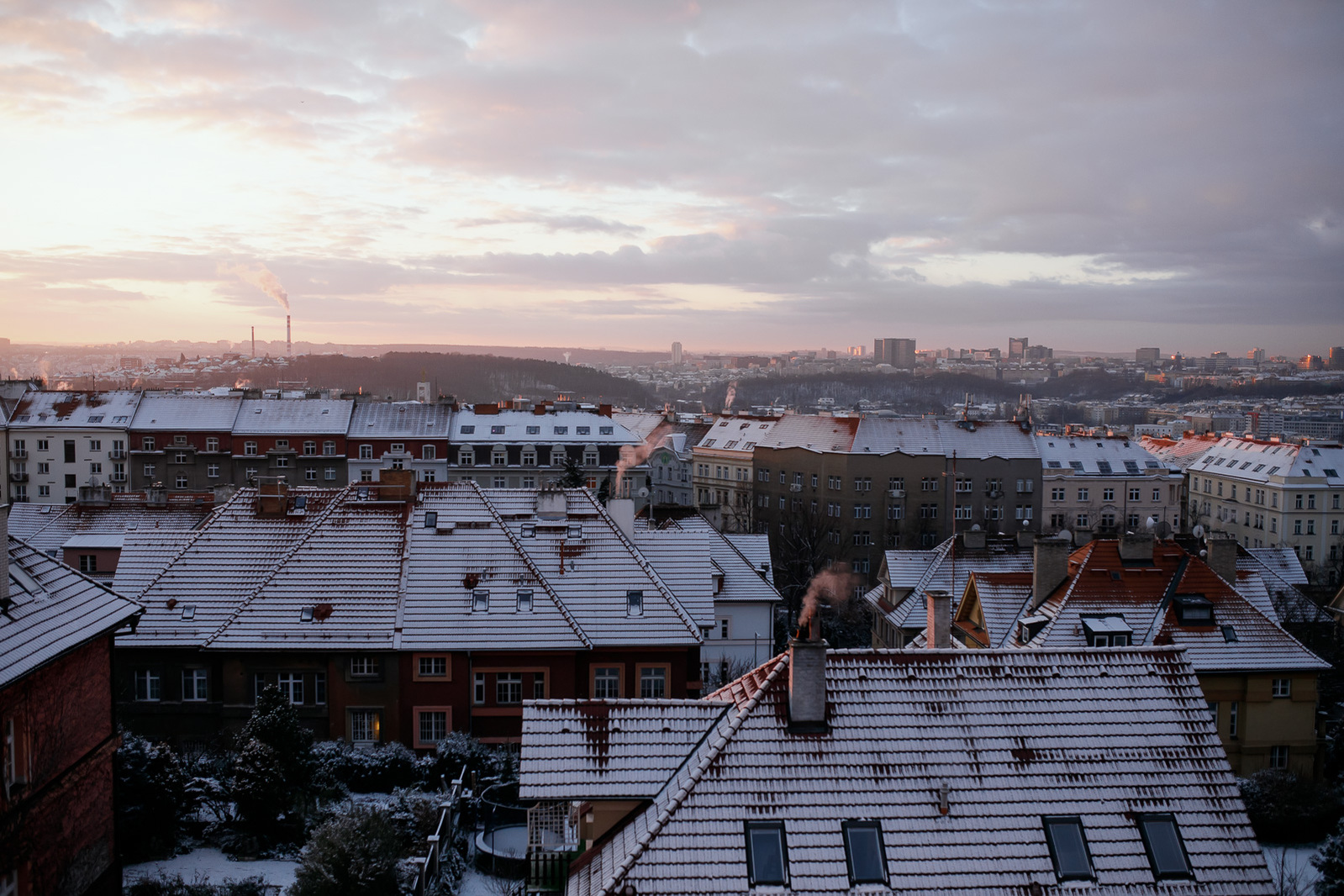 My webpage is still far from being ready, however, me and my camera still exist and work. Every year, I take it for holiday between Christmas and New Year. I love the atmosphere of this timeless week full of watching stupid tv programmes while eating the christmas leftovers, nostalgia of "the most beautiful time of the year" just passed and the urge to ponder about how better we'll be in the upcoming year. This mood is perfectly condensed in my favourite Christmas movie, Návrat Idiota.
This Christmas I spent mostly with my guy (sorry for a bit of one-man-show), in the place I've reconstructed by myself and friends this autumn. It's tiny but with a good core and with the most addictive view (especially for a photographer). We enjoyed Christmas in a very childish way - tree full of vintage decorations, traditional dinner, I even managed to find a record of christmas stories I used to love as a kid… for me it was the first time of having real Christmas Eve in Prague.
On 27th, we got an early-morning train and travelled to Karlova Studánka located in my beloved Jeseník mountains. It's one of the cutest bohemian villages, I discovered it by luck three years ago, a spa resort set in 19th century and keeping a lot of its buildings in an authentic form. It supposedly has the purest air in CZ. Also, there's almost no advert or stupid banners on streets (something very, very unusual in CZ). We were accommodated in the most monumental house - vila Libuše - and joined tens of mostly senior guests enjoying slow walks and getting various therapies. We walked too, got massage, explored the empty coridors and weird corners of Libuše, enjoyed little talks with locals, ate giant sundae (him).
I favour these little bohemian trips. Among many reasons, I think that digging deeper into something I know is damn worthy. I think that all these "you have to see everything" and "travelling is life" statements are a bit overrated. World tourism shapes the world in a way I really don't appreciate (f.e. in Thailand and all these asian coastal countries for fat wealthy Westeners… so, in a way, in Prague, too). I don't say "stay at home" but rather: travel responsively, don't fuck the destinations. Think about what you really want, not what others do. But, of course, I love travelling, too! One day I'll travel big again.
For the break of the year, we got back to the flat as we thought that seeing such a big part of Prague at midnight's firework time would be amazing and it was indeed.